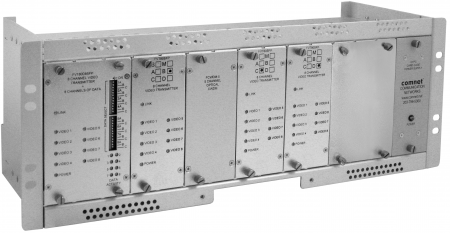 FVT/FVR320D8S1
Las Vegas, NV – Communication Networks of Danbury, Connecticut, doing business as ComNet, a manufacturer of fiber optic transmission and networking equipment, has released another series of all-new fiber optic video products. The FVT/FVR320D8S1 are 32-channel digital fiber optic video and data multiplexer transmitters and receivers. This new ComNet model supports 32 channels of the highest quality video with eight channels of bi-directional serial data. Models are available for use over single mode optical fiber. These new models offer 10-Bit RS250C Short-Haul Quality video performance. This performance level delivers unparalleled picture quality and data integrity. Transporting thirty-two channels of high-quality video and data over one optical fiber is a very cost-effective alternative to other transport methods. These new multiplexers have the capability to transport video a considerable distance, as long as 20km between locations.
According to Vic Milani, ComNet Vice President of Product Management, "Thirty-two channel video and data multiplexers introduce an incredible amount of flexibility into a point-to-point security system. In applications such as airports and parking garages where there is a requirement to have a large number of CCTV cameras installed and the control center might be miles away, transporting that video and data over a single fiber is a very cost-effective and easy to install transport method.
I'm confident that the superior video quality, performance and reliability of this model surpass anything comparable on the market today. We're so confident in this new design, ComNet will back it with a lifetime warranty", continued Milani.
"With the introduction of another product series, we are just adding to what is a very complete fiber optic product line." said Skip Haight, ComNet Vice President of Marketing. "The product lines we're introducing now are the result of years of fiber optic experience, but the major difference between ComNet and the other suppliers is the customer care experience we offer. ComNet is a complete full-service company and not just a product line. From the initial contact forward, our customers will be truly surprised about how good the customer experience is." Haight continued.
About ComNet ComNet offers an extensive line of fiber optic video and data transmission equipment as well as a line of Ethernet Network equipment that is uniquely toughened to meet the needs of the Security and Intelligent Transportation System market. Full product line details are available at www.comnet.net. The ComNet product line is represented by some of the top manufacturer rep firms in the US and Canada. Call direct 1-203-796-5300 or email for details. For more information, please contact Skip Haight at 1-203-796-5300; or e-mail ComNet at . You may also find ComNet on the internet at www.comnet.net. Electronic files of this release and photos of ComNet products are available by contacting the ComNet Marketing Department via e-mail at .