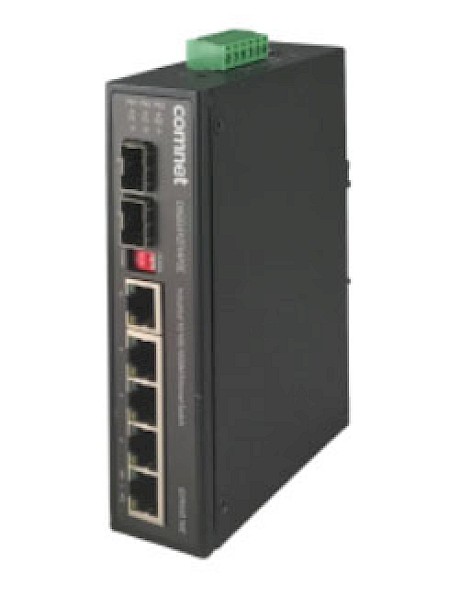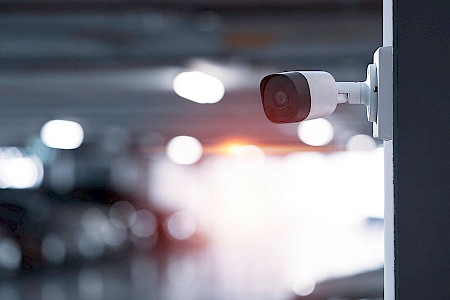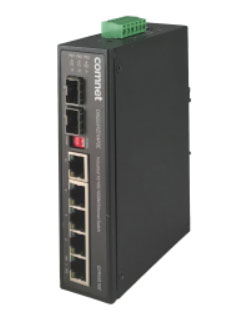 Power over Ethernet (PoE) switches have come a long way since the technology's humble beginnings back in 2003.
The first generation 802.3af PoE switch was developed in response to the burgeoning IoT market, making system configurations easier and more affordable.
These days, it's hard to find network-based edge devices that don't support PoE in one or more forms. But, just like mobile devices, PoE switches have blossomed over the years, and we now also have PoE+ and PoE++ models available.
How do you choose between PoE vs. PoE+ vs. PoE++ to get the right hardened Ethernet switch for your purposes?
Read on to learn:
How PoE Switches Work
IEEE Standards
PoE vs. PoE+ vs. PoE++
Example Applications
Tips for Choosing the Right PoE Switch for Your Needs
How PoE Switches Work
A PoE switch has the Power over Ethernet option built into it, which means it can power devices over network cables. This capability allows it to use a single Ethernet cable to transmit voice, data, and electric power between devices. Even when devices are located far from a power source, communication between them is possible.
The use of PoE simplifies device installation while simultaneously reducing costs, because it's unnecessary to run cables or install power sockets. The switches use safe, lower-than-mains voltage, although installation needs to be performed with care to avoid damage to equipment not designed for PoE. The switches power other devices via an Ethernet, and if the network has distributed switches, users can also send power to endpoint devices.
IEEE Standards
The technology is based on IEEE 802.3 or the Ethernet standard. This standard defines the physical layer and the media access control (MAC) of the data link for wired Ethernet networks. It determines how standard network architecture makes physical connections between nodes via various wired media.
Originally developed in 1982, the standard has been through multiple iterations over the years. PoE switches use 802.3af, while PoE+ use IEEE 802.3at-2009. While the original standard delivers up to 15.4W of DC power on each port, the updated standard allows for up to 30W of power to Type 2 devices. That's enough to power things like VoIP phones, wireless access points, and security cameras.
PoE vs. PoE+ vs. PoE++
The main difference between PoE (IEEE 802.3af standard) and PoE+ (802.3at) is the quantity of power delivered. PoE can provide 15.4 watts over Cat5 cables, while PoE+ can supply up to 30W over Cat5 cables, with 25.5W available to devices.
A PoE switch supports maximum consumption of up to 15.4W per port, with a voltage ranging from 44V to 57V. However, the voltage of connected PDs varies from 37V to 57V.
PoE++ was developed in 2018 using IEEE 802.3bt to increase power available to devices and applications. PoE++ switches come in Types 3 and 4, which output 60W for 51W of input power and 90W output for 73W input respectively, over Cat5 cables.
Example Applications
Between them, PoE switches power a wide range of devices. Here are examples of the types of devices PoE vs. PoE+ vs. PoE++ are suited for.
Standard PoE is usually effective for:
Meters, such as those used for measuring solar energy or indoor temperatures
Basic VOIP phones operating across public internet
Wireless access points for small networks
Stationary security cameras without pan, tilt, and zoom
Switches for cameras, pool pumps, small digital signs, and basic lighting installations
Powered audio equipment such as speakers and loudspeakers.
PoE+ with 30W output can power Type 2 devices, such as:
IP telephones that offer fax, text messaging, and voice calls
Home or office alarm systems
Remote-controlled pan, tilt, and zoom (PTZ) video cameras
Motion tracking cameras that detect and follow activity, providing an additional dimension to security systems
Remote computer terminals, and
Biometric sensors that collect biological characteristics used in recognition algorithms to automate identification.
PoE++ (Type 3) provides power for:
Two-way video phone calls
Thin client computers that connect remotely to a server-based environment
Entry access systems such as gate or door controllers, and
Remote patient monitoring devices, such as heart monitors, blood analyzers, ventilators, and other healthcare devices that share diagnostic information with providers.
PoE++ (Type 4) switches are high-power PoE that can support:
Flat screens and laptops
Point of sale systems
Commercial displays, and
Digital signage.
PoE++ delivers enough power to support network devices and IoT. While the IEEE 802.3bt standard Type 4 PoE produces 90W and 73W of input power at the device, it can supply 100W of power per port if necessary. This capability allows Type 4 PoE++ to power devices such as laptops and flat screens via Cat5 cables.
Tips for Choosing the Right PoE Switch for Your Needs
Choosing the right PoE switch depends on several factors. These six tips will help identify the best option for your requirements.
Evaluate existing systems to determine bandwidth and the power consumption of IoT appliances and fringe devices. The PoE switch must support the total power required to connect and operate all appliances.
Assess the power configurations of the facility housing the network system. Identify additions and upgrades necessary in both the short- and long-term and their power needs.
Estimate the port density needed to meet network requirements. PoE switches offer various numbers of ports, with 8, 12, or 16 ports used in smaller networks. Large corporate and institutional network systems typically need 24, 48, or more ports to manage requirements.
Calculate the data rate based on data volumes and the speed requirements for uploading and transfers. Standard Ethernet network speeds (10 Base T networks), fast Ethernet (10 Base T and 100 Base T networks), gigabit Ethernet (1000 Base T networks), and greater (1/10G) are all supported by different PoE switches. The selected PoE switch must deliver uninterrupted data transmission without losing power or signal.
Determine whether additional products such as injectors, converters, or fiber optic cabling are necessary to support longer-distance activities and higher bandwidth.
Identify the need for user configuration and control over the ports, bridges, and network protocols. This factor will help establish whether managed or unmanaged switches are required. PoE operates across both options. Managed switches can be modified remotely, from a management console, or using a browser-based network interface, while unmanaged, plug-and-play switches can't be modified.
ComNet's Range of Reliable & Secure Network Switches
Purchasing the right hardened Ethernet switch might seem daunting, but taking a systematic approach will enable you to choose correctly between PoE vs. PoE+ vs. PoE++ to optimize your budget.
ComNet offers an extensive range of network switches — including over 30 different models of managed switches — plus SFPs, mounting racks, and other accessories you need to build a network to fit your needs.
Click the buttons below to see our Ethernet switches, or get in touch with our expert Design Center Team team for assistance.