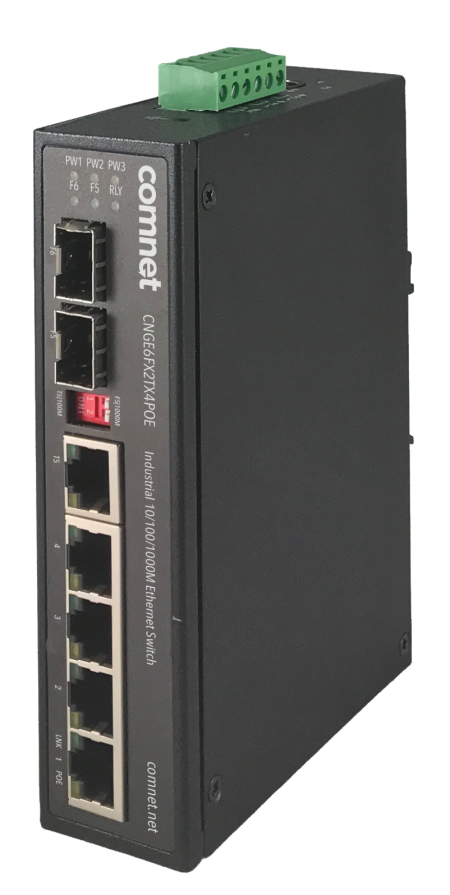 CNGE6FX2TX4POE
Danbury, CT. May 15, 2022, ComNet Products from ACRE, a Danbury, Connecticut, USA-based manufacturer of fiber optic transmission and networking equipment is introducing a new cost-effective all-Gigabit hardened switch that can act as an unmanaged switch or aggregation point for the network.
The ComNet cost-efficient CNGE6FX2TX4PoE is a six-port switch that offers four Gbps TX ports that support the IEEE802.3at standard and provide up to 30 watts of PoE to PDs.
It also has a dedicated FX/TX combination port as well as a single FX SFP to act as an additional port or an uplink port, giving the user additional options in managing network traffic. The CNGE6FX2TX4PoE is designed for use in unconditioned environments and typically used in perimeter surveillance.
"Focusing on our ComNet product line, we've been busy adding many interesting special products to fill out the line," said Skip Haight, VP of Marketing for ComNet products.
"The CNGE6FX2TX4PoE is very cost-effective, yet offers many features not commonly offered on media converters or unmanaged switches. Plus, our customers have the benefit of all the values such as products in-stock, being fully supported by the ComNet design center and covered by the ComNet Lifetime Warranty," added Haight.
ComNet, an ACRE product line, offers an extensive line of fiber optic, copper, and wireless video and data transmission equipment that is uniquely designed to meet the needs of the Security, Intelligent Transportation System, Utility, and Industrial markets. 
Full product line details are available at www.comnet.net. Call direct 203-796-5300 or email for details.