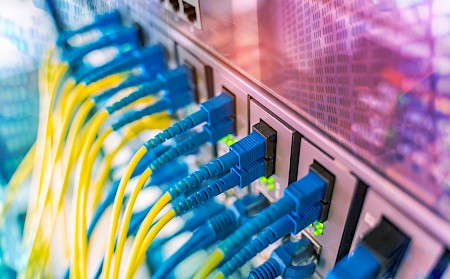 Fiber optic connectivity is fast, secure, reliable, and cost-effective. As a result, it has become the preferred video transmission format for personal or complex projects.
Current fiber optic transmission uses include communications, power transmission, imaging for the medical industry, and remote sensing.
As you plan your fiber optic network, you'll likely have questions. We're here to help, and we'll start by sharing answers to some of the most common questions we get.
Q: What is Fiber Optic Transmission and How Does it Work?
Data travels through a network using wires. Fiber optics consist of flexible and transparent thin fibers that can convey light signals over long distances with insignificant loss of strength. The electric signals are converted to light energy and transmitted over the length of the cable, typically kilometers, not meters.
Standard fiber optic cables consist of a core, cladding, coating, strengthening, and outer jacket. Light signals are transmitted through the glass or plastic core of these cables.
The core is surrounded by a concentric cladding typically made of similar materials. The slight difference in refractive indexes between the core and cladding material confines light in the core and allows for efficient transmission via internal reflection.
The coating provides protection, cushioning, and prevents interference and energy loss when fiber optic is bundled or pressed together.
Fiber optic cables are typically strengthened with Kevlar, which keeps it from stretching and creating kinks and slacks that can interfere with light transmission.  The outer jacket – typically made of polyvinyl chloride or polyethylene sheathing – is chosen for different uses, applications, and environmental concerns.
Polyvinyl chloride is rugged and flame resistant and preferred for general use. Polyethylene sheathing is designed to be moisture and weather (heat) resistant and preferred for outdoor use.
Q: What are the Benefits of Fiber Optic Networks?
It's easier to answer this question by explaining network connectivity before fiber optic transmission. Even though fiber optic transmission has been popular for over 40 years, it was the perfect choice for distance with IP networks.
Network Connectivity Before Fiber Optics
Before fiber optic technology, network connectivity was limited to copper-based media such as common Cat cables and COAX.
Cable networks transmit high-frequency electrical signals using copper cables. They can also transmit signals with minimal loss. However, the transmission is based on electrical conduction and the cable network's capacity to transmit (bandwidth) can be limited.
In addition, copper media has limited capacity to transmit signals due to cable and line size constraints.
Fiber Optic Network Connectivity
Fiber optic connectivity solves the problems experienced with cable and DSL. It's faster, offers greater capacity, uses less energy, and experiences less signal loss.
Faster – Fiber optic transmission relies on fast light signal reflection. Unlike copper cables, it does not rely on electric current transmission, nor is it limited by wire gauge, electrical conduction, and distances.
More capacity – Fiber optic is thin and can be bundled, resulting in a greater capacity to transmit signals.
Less energy use and signal loss – Fiber optic is designed to transmit light signals continuously over long distances. Therefore, unlike electrical-based networks that require more energy to transmit signals, it is not affected by environmental conditions or electromagnetic interference that causes electric signal degradation or signal loss.
In addition, fiber optic networks have versatile uses in industries that demand durable and reliable communications and signal transmission systems. Fiber optic networks can be operated with less cost than other media because they are thin, inexpensive, and require low energy to send signals.
Q: What Should I Think About As I Start to Design My Network?
When planning your fiber optic network design, there are some common things to consider. We'll list them below, and we recommend working through them to ensure a smooth design and installation process.
Anticipated federal requirements if the project is federally funded.
Anticipated project schedule and delivery of product date.
Project size to help determine product needs, design layout, local building safety requirements, and federal regulatory communication requirements.
Existing network and powerplant capabilities regarding your project requirements to help determine if there is a need for enhancement/upgrade ahead of time.
Your organization's firewall and quality control protocols applicable to the project and ComNet network services and products.
Existing/preferred network documentation and troubleshooting software to work and integrate ComNet products.
ComNet engineering team experience and network designer qualifications specific to your project requirements.
Special project requirements such as the development of new products and integration solutions.
Q: Why is ComNet the Preferred Provider of Network Communication and Video Transmission Products?
ComNet develops and carries the latest designs and technologies to provide sophisticated and resilient IP Transmission solutions. ComNet products are made in the USA and guaranteed for life.
ComNet products are used by high-profile facilities such as the US Customs & Border Protection facilities, US National Nuclear Security Administration facilities, Microsoft Data Centers, Google Data Centers, Yahoo Data Centers, IBM Headquarters, Buckingham Palace, and the Stuttgart Museum.
The ComNet Dedication to Quality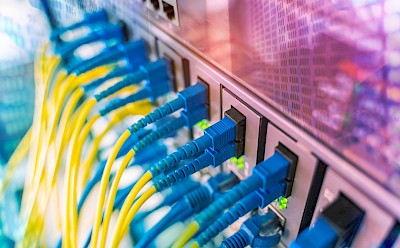 ComNet emerged onto the market in 2008 led by former employees of International Fiber Systems (IFS). ComNet developed a completely new and updated line of fiber optic and hardened Ethernet products backed by solid business ethics, customer support, engineering, and quality.
ComNet develops audio, video, data, and Ethernet communication products providing innovative communications and networking solutions to the Security, Intelligent Transportation System (ITS), and power transportation and distribution markets.
With a product line consisting of fiber optic video, data, and audio transmission products as well as a broad fiber optic, wireless, and copper media Ethernet, ComNet sets the standard for electronic transmission providers.
The ComNet Lifetime Warranty
ComNet can back all products with a Lifetime Warranty because of the quality of their products and the extensive technical experience of their team.
Comprised of engineers and technicians with over ten years of experience designing complex fiber optic and electronic circuits and working with complex networks, the ComNet team performs at a higher level and provides effective solutions than its competitors.
The ComNet Design Center Can Help
As we mentioned earlier, we're here to help if you need it. ​​The ComNet Design Center provides one-on-one technical pre-sale support for fiber optic system design and engineering when you require help from an expert.