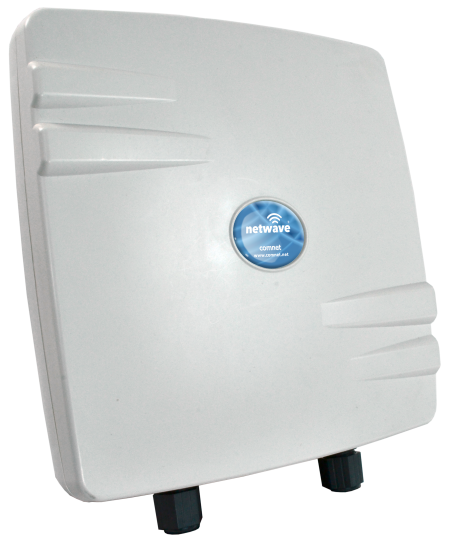 NW(1,2)[IC] Series (Gen 4)
Danbury, CT. April 4, 2021, ComNet, Communication Networks of Danbury, Connecticut, an ACRE company, and a USA-based manufacturer of fiber optic transmission and networking equipment is announcing the introduction of its Generation 4 line of NetWave® wireless products that offer greater performance and increased stability in applications where throughput and increased bandwidth is increasingly important.
The NW1 Gen 4 can exceed 500Mbps throughput under ideal conditions, accommodates 10/100/1000Mbps Ethernet, it also now has IEEE802.3at PoE Compliant PD on port 1 and an IEEE802.3af power source (PSE) available on port 2. Distance is specified for applications of up to 2 miles. The new hardware features a high-performance chipset with a quad-core CPU that is designed to meet the high throughput demands that surveillance applications require.
The all-new gen 4 NW1 throughput is far greater than the original 95Mbps the original NW1 offered. The NW1 is available in kit form, the NWK1, and consists of two MAC Address-locked radios and mounting hardware. Each NW1 unit is enclosed in a new more durable enclosure and is designed for extreme conditions and has an extended operating temperature range as well as being IP67 rated for resistance to water and dust intrusion. As with other ComNet NetWave® products, the NWK1 is easy to set up and operate. It features a unique connection procedure using LEDs to assist in aiming the units for optimal performance.
According to Andrew Acquarulo Jr., ComNet CEO and President, "Our engineering team was challenged to increase performance in our next generation of NetWave® products. We wanted to increase performance without increasing the cost to our customers."
"This new NW1 accomplished all our goals for this product line," Acquarulo concluded.
"The increased performance of the NW1 allowed us to reduce our NetWave® model offering and ultimately make selecting the right NetWave® product very easy for our customers," said Skip Haight, ComNet VP of Marketing. "We believe everybody is looking for that something extra and, in this case, we are giving ComNet customers increased performance at no additional cost," Haight added.
ComNet, an ACRE company, offers an extensive line of fiber optic, copper, and wireless video and data transmission equipment that is uniquely designed to meet the needs of the Security, Intelligent Transportation System, Utility, and Industrial markets. Full product line details are available at www.comnet.net. Call direct 203-796-5300 or email for details.