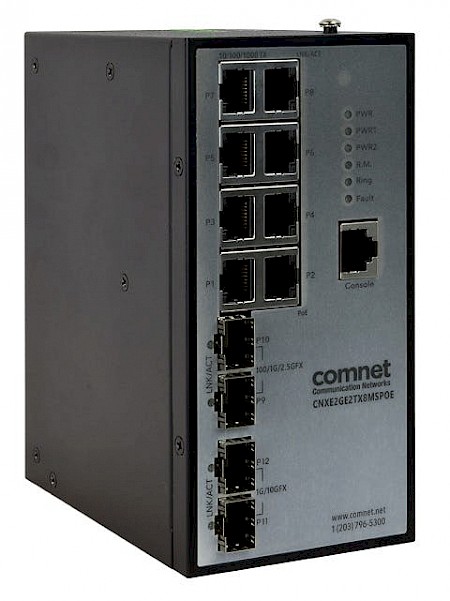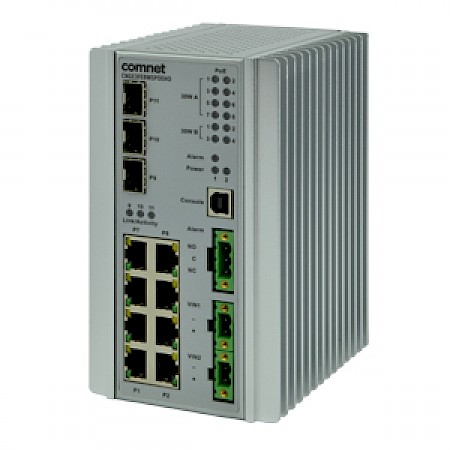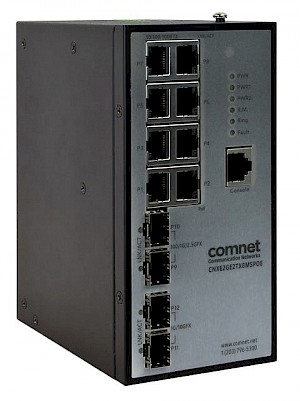 There are many advantages to using PoE technology, including the ability to better grow and maintain a network.
But when choosing a PoE switch, you'll want to consider things like your expected organizational growth and device use so you can be sure to select the right switch.
In this article, we'll share the most essential considerations to help you choose the right PoE switch. If you're new to PoE, you'll want to read our review of PoE technology.
If you're an Integrator or Network Administrator, you'll want to jump down to the section on choosing a PoE Switch.
A Review of PoE Technology
Power over ethernet (PoE) enables wired Ethernet cables to carry electrical current and operate network appliances and devices. Unshielded twisted pair (UTP) cabling, such as Category 5 cable, is typically used to deliver direct current power. PoE eliminates the need to use power cords, power supplies, and outlets.
By 1999, PoE was standardized to certify uniform operations for powered network hardware and appliances on ethernet connectivity. Since then, PoE standards have advanced, resulting in interoperability with network appliances and devices not supported by PoE, increased power for network appliances and devices, and improvements to the standard Category 5 cable to deliver increased power.
Thirty-watt PoE, referred to as IEEE802.3af or PoE+ PoE, was designed to support a wide variety of network appliances and devices. The current and maximum PoE devices have a power rating of 90 watts, also referred to as IEEE802.3bt Type 4 or PoE++.
A 90-watt Type 4 PoE++ can power network appliances and devices such as motion sensors, security video cameras and monitors, and even refrigerators. Category 5 network cable is the minimum requirement for Type 3 and 4 PoE. Improved cabling requirements, including Category 8 network cables, are available and interoperable with both Type 3 and Type 4 PoE.
PoE products include copper to fiber optic media converters, fiber optic media converters, and Ethernet switches. PoE media converters make it possible to interconnect systems using copper-based cables and systems using fiber optic cables or allow fiber-to-fiber conversion.
PoE switches group digital data – including raw data or payload, metadata such as an IP address, and routing information – together in a packet and transfers them to designated destinations.
Choosing a PoE Switch
Advanced planning for organizational growth and device uses is important when choosing the right PoE switch.
Important factors to evaluate before choosing a PoE switch include the existing network system and bandwidth, existing network appliances and IoT, locations of network appliances and fringe devices and IoT, the facility's power configurations, and desired upgrades and additions to the network system.
These factors will determine the PoE switch type and device requirements such as data rate, power consumption, port density, benefits of managed and unmanaged switches, and the need for converters/fiber optic transmission for longer distances and increased bandwidth.
Data rate
The existing network speed or anticipated network speed upgrade is important in determining the right PoE switch. Standard Ethernet network speeds (10 Base T networks), fast Ethernet (10 Base T and 100 Base T networks), gigabit Ethernet (1000 Base T networks), and greater (1/10G) are all supported with specific PoE switches.
Power consumption
The total power consumption of all powered network appliances and devices should be within the operational capacity of PoE switches, including the power consumed by the PoE switch. Depending on the number of ports and type of PoE switch, all powered network appliances and devices should be simultaneously connected and powered.
The right PoE switch can provide uninterrupted data transmission without power or signal loss. Power budget depletion and signal loss can be avoided by careful calculation of the power budget. ComNet's PoE Power Supply Budget Calculation is available to help you calculate your power budget.
Port density
The size or potential growth of an organization's network should help in anticipating port density. PoE switches commonly offer 8, 12, 16, 24, and 48 ports or more for Ethernet cabling and connectivity. PoE switches with 8 to 16 ports typically meet the requirements of small or home networks. PoE switches with 24, 48, or more ports can meet large and diverse network system needs of data centers, corporate organizations, and institutions.
Managed or unmanaged PoE switches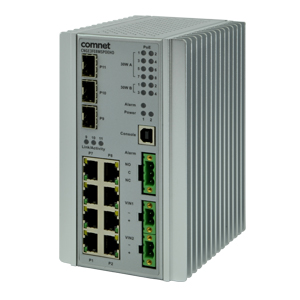 A managed switch allows for user configuration and includes switch management operations. Managed switches provide configuration and control over ports, bridges, and network protocols.
An unmanaged switch comes pre-configured for plug and play operations and will automatically identify system operations and hardware components. An unmanaged switch does not require user configuration and typically cannot be modified.
Both managed and unmanaged switches can incorporate PoE. However, users can modify the configuration of managed switches remotely, from a management console, or via network interface from a web browser with the advantage of PoE.
Fiber optic transmission
The maximum length and effectivity of UTP cabling is 100 meters. Fiber optic cabling allows for longer distance and greater bandwidth capacity over UTP cabling, with the use of PoE media converters.
Fiber optic transmission bridges the distance and bandwidth requirements. PoE media converters convert fiber optic to copper transmission and send data over PoE UTP cabling to network appliances and devices.
Need a Little More Help Choosing Your PoE Switch?
ComNet's Design Center is here to support you with one-on-one technical pre-sale telephone assistance. The ComNet Design Center service is free for customers interested in using ComNet products in their designs.
You can click here to connect with a Design Center representative- we're here and ready to help.
You can also see our full line of PoE Switches that can support your organization's existing or planned network data rate by clicking the button below.