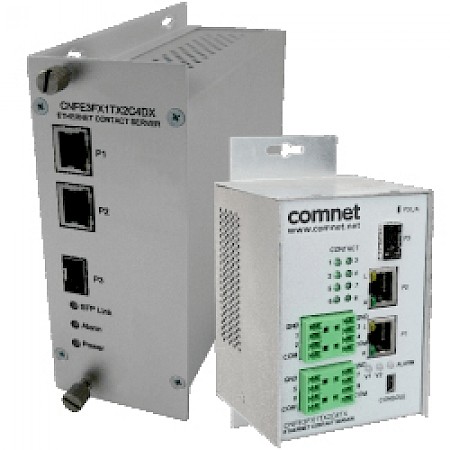 ComNet media converters and switches offer a series of simple, yet highly effective features to help secure your networks in a simple, yet effective manner.
Common Types Of Network Security Vulnerabilities In 2021
A network vulnerability is a weakness or flaw in the software, hardware, or organizational processes, which when compromised by a threat, can result in a security breach.
Nonphysical network vulnerabilities - involve software or data.
For example, an operating system (OS) might be vulnerable to network attacks if it's not updated with the latest security patches. If left unpatched a virus could infect the OS, the host that it's located on, and potentially the entire network.
Physical network vulnerabilities - involve the physical protection of an asset, such as locking a server in a rack closet or securing an entry point with a turnstile.
Servers have some of the strongest physical security controls in place as they contain valuable data and trade secrets or perform a revenue-generating function like a web server hosting an eCommerce site. Often stored in off-site data centers or secure rooms, servers should be protected with personalized access cards and biometric scanners.
Prior to investing in security controls, a vulnerability risk assessment is performed to quantify the cost and acceptable loss of the equipment and its function.
Common Network Vulnerabilities:
Malware - short for malicious software, such as Trojans, viruses, and worms that are installed on a user's machine or a host server.
Social engineering attacks - fools users into giving up personal information such as a username or password.
Outdated or unpatched software - exposes the systems running the application and potentially the entire network.
Misconfigured firewalls/operating systems - allows or has default policies enabled.
When left unchecked, these vulnerabilities can lead to more advanced attacks such as a DDoS (distributed denial of services) attack, which can bring a network down to a crawl or prevent users from accessing it altogether.
What is Port Guardian?
Port Guardian is a simple, effective feature that prevents unauthorized access to your network by physically breaking the connection.
Think about all the outside network access points available to your network. From IP cameras to access control points, any of these network connections can be easily disconnected by an intruder who could then connect an unauthorized computer quickly.
How it Works
As soon as an intruder disconnects an external network cable connection, Port Guardian automatically disconnects that port from the network preventing access. The device immediately sends an SNMP notification to the headend/ADMIN, notifying them that the port has been disconnected. The ADMIN can then reset the port after the threat is resolved.
Where You Can Find Port Guardian
Port Guardian is currently available on many of ComNet's SMS products, as well as our USA-made self-managed switches and media converters.
ComNet is also introducing a new media converter designed to help in the cybersecurity battle. The new model is a unidirectional or one-way media converter.
The CNGEUMC4+2 allows IP data from a camera or access control system to flow in but prevents any return data from flowing out.
A Unique Customer Service Experience
ComNet offers customers a new level of security not available from other transmission manufacturers. Our SMS products bring value to your network's operation, effectively preventing logjams and controlling traffic. Port Guardian supported products are offered in many different port count configurations, are TAA compliant, and hold a lifetime warranty.
ComNet offers:
Free transmission plan design services
Four expert transmission engineers onsite and always available
Extended hours – 7 am to 9 pm EST Monday - Friday
Always available by phone, email, or text
Please click below to see our comprehensive inventory of Port Guardian products.