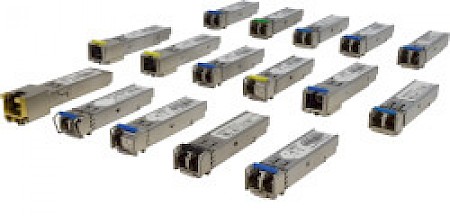 SFPs:
Replace older GBIC modules previously used (sometimes still called mini GBX)
Helps send ethernet data over optical fiber cable (or copper versions with standard RJ, 45 connectors)
The advantage of using SFPs compared to fixed interfaces (e.g. modular connectors in Ethernet switches) is that individual ports can be equipped with any suitable type of transceiver as needed.
When trying to transmit over optical cable, these are your laser transmitter and receiver, and they easily plug into your media converter or switch with no additional configuration. It's a very simple concept, but there are a lot of factors to take into account when selecting the proper SFP for your application.
To recap, SFPs are:
ComNet SFP Flexibility and Performance
ComNet offers 47 different SFP modules that can handle:
1 or 2 optical fibers
MM or SM optical fiber
100 Mbps, 1 Gbps, 2.5 Gbps
1 Gbps over multimode, optical fiber up to 2 km
Copperline models allow you to extend Ethernet over coax/UTP cabling to 3000 feet
For multi-vendor environments, ComNet offers:
Cost-saving alternative to Cisco SFP
ComNet switches can be used in place of a Cisco switch
Lifetime warranty
Check out this short video as our expert trainer examines our SFP capabilities.
When Do You Need to Use an SFP Module?
Use an SFP in security situations where you need:
Ethernet data longer distances than the standard hundred-meter distance limitation of the Cat 6 cable.
Lightning protection. Optical fiber is not conductive, so it won't transfer a lightning strike into your head end equipment.
What Type of Fiber Will You Be Using?
There are many things to consider before choosing a type of fiber. You must ask such questions as:
Do I need multimode fiber or single-mode fiber next?
How many fibers will I use for each point-to-point link?
Should I use SFPs for a single fiber link or link using duplex fibers?
Data speed
You also need to figure out the data speed you will be transmitting over the optical fiber. There is 100 FX, 1000 eFax also called gigabit, and 10 gig. Although the vast majority of edge networking gear doesn't need 10 gig speed.
ComNet has ports capable of:
100 FX
1000 Mbps (also called gigabit)
10 gig
Connectors
Next, you'll determine the type of preferred connector. Optical SFPs use either SC or LC connectors. A single fiber SFP can use either an SC or LC connector, but a two fiber SFP can only use LC connectors because of the limited size of an SFP.
SFP distance
Most SFPs can handle distances around two to 20 kilometers, but there are special considerations for gigabit data over multimode fiber.
Normally the standard only allows up to 550 meters for this scenario. A ComNet special SFP 46 allows two kilometers of distance for gigabit data over multi-mode fibers on a more advanced level. The wavelengths of light that the SFP uses to transmit the data can also come into play, but that's usually only when you are combining SFPs from different manufacturers.
Additionally, ComNet also has extended distance ethernet SFPs that can transmit data over 10,000 feet on a single twisted pair of copper. This limits the amount of data, but it sure is a great solution when you have no other options.
SFP Modules That Go The Distance
Now you're probably seeing all the flexibility that using an SFP module allows in your design. And fortunately, ComNet offers free transmission design plan services with expert transmission engineers always onsite and available.
Click the button below to learn more about our SFP modules.