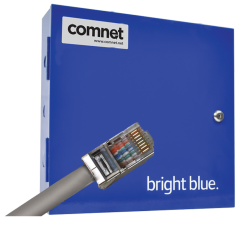 Availability: NA Only
The VBB-NRI is being eliminated. Please contact ComNet Customer Care for last time buy information and elimination date.
Datasheet: en

The ComNet VBB-NRI is a cost-effective solution that can extend the reach of your bright blue system. This IP-based reader interface is perfect for remote locations where wiring can be a challenge. The VBB-NRI connects to the VBB or VLB controller board via your network, allowing you to bring remotely located readers online with your bright blue access control system.
The VBB-NRI is compatible with most card readers (any device with a Wiegand output) and supports facility lockdown and degraded mode.