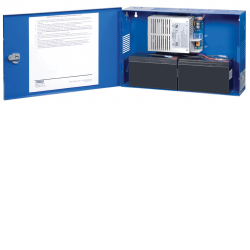 Availability: NA Only
The VBB-(X)ALS is being eliminated. Please contact ComNet Customer Care for last time buy information and elimination date.
Datasheet: en

The VBB Series power supplies are efficient high performance switching power supplies with battery charger and power supervision, capable of providing two outputs, user selectable for 12 or 24 VDC. One output provides continuous output power and the second is programmable to either fail-safe or fail-secure lock operation, when the on board fire alarm interface is activated. On-board visual indicators allow for immediate installer feedback. Independent form C relay contacts are provided to report AC and system fault conditions to remote or auxiliary equipment. The VBB Series are uninterruptible power supplies when stand-by batteries are connected. VBB power supplies are fully fault protected and feature fiberglass printed circuit boards to protect the electronics from water and other corrosive elements. High efficiency design promotes low heat generation leading to longer service life. These power supplies are RoHs compliant, lead-free, and meet the latest state, federal and European requirements for energy efficiency.