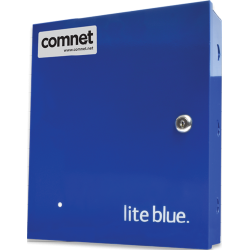 Availability: NA Only
The VLB lite blue is being eliminated. Please contact ComNet Customer Care for last time buy information and elimination date.
Datasheet: en

VLB lite blue by ComNet is a networked access control platform for up to 8 doors. Designed with embedded intelligence, lite blue does not require special software or a dedicated PC, allowing the flexibility to manage the system from anywhere with internet access. The lite blue platform supports standard Wiegand devices, Schlage AD Series electronic locks, and various card formats and technologies such as proximity, smart card, magnetic stripe and Bluetooth®. Each Controller includes two on-board Reader Interfaces for direct connection of readers and door hardware.
This controller is the main component of an integrated solution that can include ComNet power supplies, Reader Interfaces, readers and credentials.