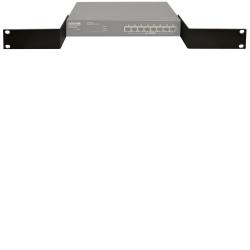 Availability: Worldwide
The RMB Series is being eliminated. Please contact ComNet Customer Care for last time buy information and elimination date.
The ComNet RMB-1 Rack Mount Bracket Adaptor Kit is ideal for mounting one (1) ComNet model CWFE8TX8MS Ethernet Managed Switch unit (having a width dimension of 9.85 in / 250 mm). The ComNet Ethernet switch module is simply affixed to the adaptor bracket with the mounting hardware provided. The complete assembly is then mounted directly within any standard 19-inch equipment rack or cabinet.