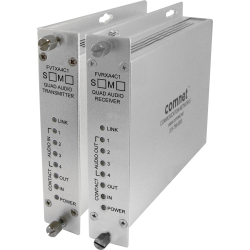 Availability: Worldwide
The FVT/FVRXA4C1 Series is being eliminated. Please contact ComNet Customer Care for last time buy information and elimination date.
The ComNet FVT/FVRXA4C1 series audio multiplexer provides the transmission of four audio signals and one bi-directional contact closure over one multimode or single mode optical fiber. The modules use 24-bit 96kHz sample rate digital encoding for superior transmission of balanced line-level audio. Plug-and-play design ensures ease of installation and no electrical or optical adjustments are ever required.