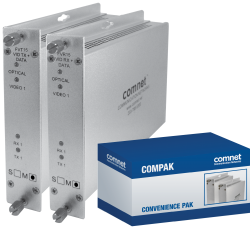 Availability: Worldwide
The COMPAK15M2 is being eliminated. Please contact ComNet Customer Care for last time buy information and elimination date.
The ComNet FVT15M2 video transmitter/data receiver and the FVR15M2 video receiver/data transmitter support the simultaneous transmission of video and return data over two multimode optical fibers. These modules are universally compatible with all major CCTV camera manufacturers and supports RS232 and RS422 data interfaces and all major data protocols.