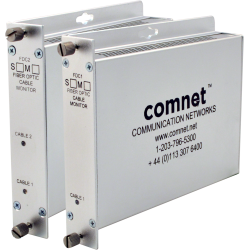 Availability: Worldwide
The FDC1/FDC2 is being eliminated. Please contact ComNet Customer Care for last time buy information and elimination date.
The ComNet FDC1 single-channel and FDC2 dual-channel modems are designed to detect and report a breakage or the loss of optical signal in either multimode or single- mode fiber plants. Featuring a self-contained transmitter and receiver, these units provide an optical output that is transmitted continuously through a customer-furnished fiber loop, where it returns to the internal receiver section. Should the optical path be lost through a deliberate or unintentional breakage of the fiber, relay contacts in the modem immediately change their state and report the loss of optical signal. These contacts are user-configurable as either normally open (NO) or normally closed (NC), and may be utilized for either a local or remote indication of cable plant tampering, damage, or failure. The dual-channel version contains two independent transmitter and receiver units in one compact package, and is ideal for continuously monitoring the optical status of two separate fiber loops.