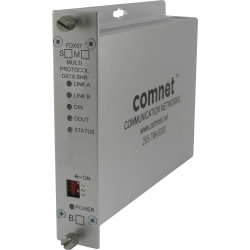 Availability: Worldwide
The FDX57 Series is being eliminated. Please contact ComNet Customer Care for last time buy information and elimination date.
The ComNet FDX57 series Self-Healing Ring Transceiver unit is a fully-digital modem designed for implementing RS232, RS422 or RS485 2 or 4-wire data communications networks of the highest possible reliability. A network of FDX57 units can support one full-duplex or two half-duplex data channels. These transceivers also feature data translation to convert between data protocols. Data re-clocking and regeneration permit an almost unlimited number of transceiver/controller units to be used within the network. These environmentally hardened transceivers are ideal for use in unconditioned out-of-plant or roadside installations and, unlike many competing designs, only one optical fiber is required between units to implement a fully self-healing ring.