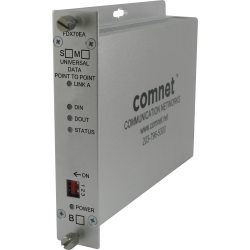 Availability: Worldwide
The FDX70E Series is being eliminated. Please contact ComNet Customer Care for last time buy information and elimination date.
The ComNet FDX70 data transceivers provide point-to-point transmission of simplex or duplex EIA RS232/RS422/RS485 (2W/4W) data signals over one single mode or multimode optical fiber. The transceivers are transparent to data encoding allowing for broad-range compatibility. Models within this series are available for use with multimode or single mode optical fiber.