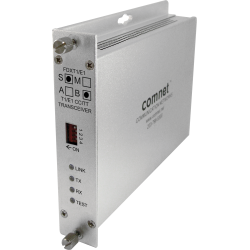 Availability: Worldwide
The FDXT1/E1 Series is being eliminated. Please contact ComNet Customer Care for last time buy information and elimination date.
The ComNet FDXT1/E1 data transceivers are T1/E1 links that support AMI and B8ZS data signals over one single mode or multimode optical fiber. The transceivers synchronize and regenerate data to eliminate jitter accumulated through the link. Models within this series are available for use with multimode or single mode optical fiber. Plug-and-play design ensures ease of installation requiring no electrical or optical adjustments. Each transceiver incorporates a bi-color (Red/Green) indicating LED for monitoring proper system operation. The FDXT1/E1 standard size units may be either wall or rack-mounted in a ComNet card cage, or may be installed in an IFS R3 rack with the selection of the corresponding model.