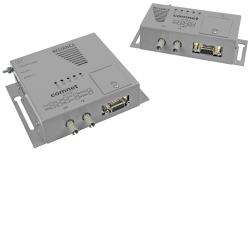 Availability: Worldwide
The RLFDX RS-232 Series is being eliminated. Please contact ComNet Customer Care for last time buy information and elimination date.
Datasheet: en

Quick Start
Manual

The ComNet RLFDX232 series of serial data link/repeaters are substation-rated and industrially hardened form, fit, function and completely backwards-compatible replacements for the popular Garrettcom/Dymec 5843 and 5844-series of serial data link/repeaters. They are is designed for deployment in environments where high levels of electromagnetic noise and interference (EMI) and severe voltage transients and surges are routinely encountered, such as electrical utility substations and switchyards, heavy manufacturing facilities, trackside and roadside electronic equipment, and other difficult out-of-plant applications. Optical connectivity provides significantly extended transmission distances compared to copper media; high levels of electrical isolation; enhanced reliability and protection for peripheral IEDs, RTUs, and other equipment; and operational safety. The RLFDX series serial data link/repeaters are easily field-configurable for point-to-point, point-to-multipoint/master-slave, loop, or bus topologies. They may be also used for electrical data protocol conversion: an RLFDX232 RS-232 modem and IED/RTU can communicate directly with an RLFDX485 RS-422/RS-485 modem and IED/RTU. The extremely versatile and simple-to-install RLFDX series is ideal for any mission-critical application where very high levels of reliability and network availability are of the utmost importance.