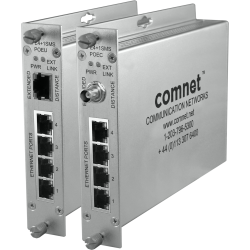 Availability: Worldwide
The CLFE4+1SMS Series is being eliminated. Please contact ComNet Customer Care for last time buy information and elimination date.
The ComNet CLFE4+1SMS[POE](C,U) is a five-port Ethernet switch with uplink management functionality and provides 4 copper ports operating at 10/100Mbps and is designed to combine four electrical ports into a single electrical Cat5, UTP or Coax CopperLine® port that forwards this data to the next network device. There is no programming required to use this product. The ComNet CLFE4+1SMS comes pre-programmed, preventing network video flooding with DIP switch selection of the fifth electrical port as uplink or as an unmanaged switch. Ports 1–4 of the CLFE4+1SMSPOE can supply up to thirty (30) watts of Power over Ethernet (PoE)* and incorporate PoE+ features based on the IEEE 802.3at standard.