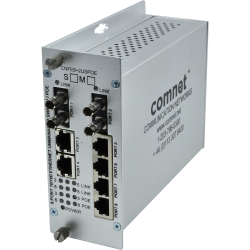 Availability: Worldwide
The CNFE6+2USPOE Series is being eliminated. Please contact ComNet Customer Care for last time buy information and elimination date.
The ComNet CNFE6+2USPOE provides 8 Ethernet ports operating at 10/100 Mbs and is designed to combine six electrical ports plus one optical port into a second optical port that forwards this data to the next CNFE6+2USPOE. The optical ports are designed to forward the data from the six electrical ports to the next switch, to a PC, or another Ethernet connection. In addition, the electrical ports can supply up to thirty (30) watts of power ("Power Over Ethernet") to remote Ethernet devices. This product uses ST or SC optical connections and can be supplied to operate over Singlemode or Multimode optical fiber.
There is no programming required to use this product. The product comes pre-programmed with IEEE 802.1x based VLAN management functionality, preventing network video flooding. It is "Plug-and-Play". The sixth (6th) electrical port can be used to monitor the data flow from the optical port to permit "local" observation and diagnostics of the equipment. LED indicators confirm the operating status of this device. The ComNet CNFE6+2USPOE may be either wall mounted, rack mounted ("ComFit" packaging) or DIN-rail mounted with the use of the ComNet DINBKT1 adapter.