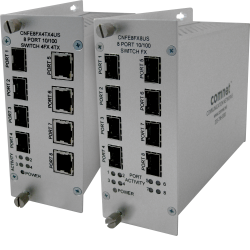 Availability: Worldwide
The CNFE8US Series is being eliminated. Please contact ComNet Customer Care for last time buy information and elimination date.
The ComNet CNFE8US Series Ethernet 8 port unmanaged switches are designed to transmit and receive 10/100 Mbps data over optical fiber through user selectable SFP options or 10/100 Mbps data over CAT5e/6 electrical cable. Eight independent 10/100 Mbps channels are integrated in a single package. The CNFE8FX4TX4US and CNFE8FX8US require the ordering of sold-separately interchangeable SFP* modules for fiber type, distance and connectors. The CNFE8US Series models are environmentally hardened to operate in demanding environments. LED indicators are provided for confirming equipment operating status. Packaged in the exclusive ComNet ComFit housing, these units may be either wall or rack-mounted, or may be DIN-rail mounted by the addition of ComNet model DINBKT1 adaptor plate.