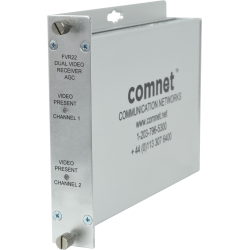 Availability: Worldwide
The FVR22 is being eliminated. Please contact ComNet Customer Care for last time buy information and elimination date.
The ComNet FVR22 dual video receiver detects two independent AM video signals in one module on two independent multimode fiber optic cables. The module is not a multiplexer. The module is ideal for smaller CCTV installations and the rack mount version can be used to double the fixed video capacity of the C1 rack for up to 28 independent video channels per card cage. The modules utilize Automatic Gain Control (AGC).