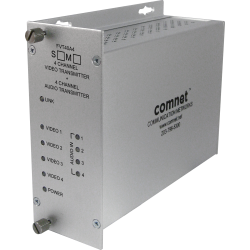 Availability: Worldwide
The FVT/FVR40A4 Series is being eliminated. Please contact ComNet Customer Care for last time buy information and elimination date.
The ComNet FVT/FVR40A4 series video/audio multiplexer utilizes 10-bit video encoding for true EIA/TIA RS-250C Short-Haul broadcast quality transmission, and 24-bit encoding at a 96 Khz sampling rate for the highest possible audio fidelity. Digitally Encoded transmission ensures that the video and audio performance remain completely unaffected up to the maximum usable optical transmission distance or optical path loss. These environmentally hardened units provide the transmission of four independent simplex video and four independent simplex line-level audio channels over one multimode or single mode optical fiber. The FVT/FVR40A4 series is completely transparent to and universally compatible with any NTSC, PAL, or SECAM camera system.