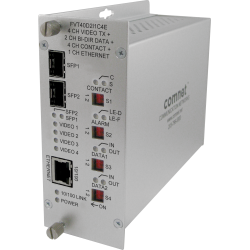 Availability: Worldwide
The FVT/FVR40D2I1C4E is being eliminated. Please contact ComNet Customer Care for last time buy information and elimination date.
The ComNet FVT/FVR40D2I1C4E environmentally hardened units provide transmission of four independent video channels and two bi-directional data channels. They also provide transmission of one Aiphone intercom channel and four contact closure channels with tamper supervision in addition to one 10/100Mbps Ethernet channel. The FVT/FVR40D2I1C4E has dual SFP optical ports to provide a redundant point-to-point fail safe topology in the event of loss of one fiber or one optical module.