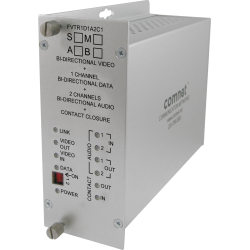 Availability: Worldwide
The FVTR1D1A2C1 Series is being eliminated. Please contact ComNet Customer Care for last time buy information and elimination date.
The ComNet FVTR1D1A2C1(M,S)1 series transceivers support simultaneous transmission of short-haul quality 10-bit bi-directional digitally encoded video plus one bi-directional data channel, two channels of bi-directional audio and contact closure over one multimode or single mode optical fiber. The module is universally compatible with major CCTV camera manufacturers and supports RS232, RS422 and 2 or 4-wire RS485 data interfaces, and most major data protocols. The modules use 24-bit 96kHz sample rate digital encoding for superior transmission of balanced line-level audio.