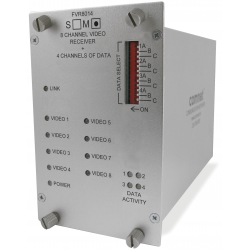 Availability: Worldwide
The FVT/FVR8014 Series is being eliminated. Please contact ComNet Customer Care for last time buy information and elimination date.
The ComNet FVT/FVR8014 Series transmits eight channels of 10-Bit Digitally Encoded video along with four channels of bi-directional data over one single mode or multimode optical fiber. The video quality exceeds RS-250C for medium-haul video transmission. This equipment is environmentally hardened and suitable for use in unconditioned roadside or out-of plant installations. The FVT/FVR8014 is compatible with NTSC, PAL and SECAM video transmission protocols and supports bi-direction RS232, 422 and 485-2/4W data.