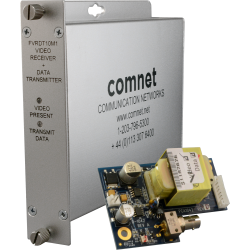 Availability: NA Only
The FVTDR10-B & FVRDT10M1 is being eliminated. Please contact ComNet Customer Care for last time buy information and elimination date.
The ComNet FVTDR10-B for the Bosch dome camera system supports the simultaneous transmission of video in one direction and pan tilt and zoom control signals in the reverse direction. The module is compatible with the ComNet FVRDT10M1, which is both a stand alone and rack mount device. The FVTDR10-B supports RS-232 and RS-422 data signals from the receiver to the transmitter and outputs RS-422 data into the Bosch dome.