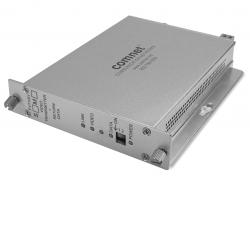 Availability: Worldwide
The FVT/FVR1021 Series is being eliminated. Please contact ComNet Customer Care for last time buy information and elimination date.
The ComNet FVT/FVR1021 series video transmitter/ receiver and data transmitter/receiver supports the simultaneous transmission of short-haul quality 10-bit Digitally Encoded video and return data over one multimode or single mode optical fiber. This module is universally compatible with major CCTV camera manufacturers and supports RS-232 and RS-422 data interfaces. The FVT/FVR1021 allows the user to set the data through a switch on the unit.