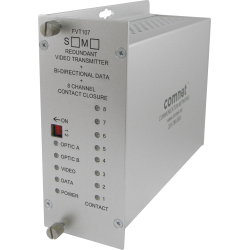 Availability: Worldwide
The FVT/FVR107 Series is being eliminated. Please contact ComNet Customer Care for last time buy information and elimination date.
The ComNet FVT/FVR107 series of optical video links provides 10-bit Digitally Encoded video, 10 Mhz bandwidth, short haul video quality, one bi-directional data channel and a dual optical port redundant Point-to-Point topology plus eight contact closures and two alarm relays. The redundant Point-to-Point topology using the dual optical ports provide fail safe operation in the event of loss of one fiber. Each optical port uses wavelength division multiplexing (WDM) to both transmit and receive on one optical fiber. Microprocessor-based logic sends the contact information in packets that are ordered and encoded, ensuring extremely robust transmission. Packets that are garbled, packets out of sequence, and transmission bit errors will not cause random changes of state on the contact relays. Also, the mechanical latching relays maintain their state even when the unit loses power. The data channel supports RS232, RS422 and 2 wire and 4 wire RS485.