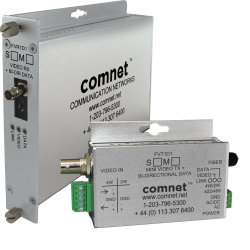 Availability: Not available in North America
The FVT/FVR1D1 & FVR2D2 Series is being eliminated. Please contact ComNet Customer Care for last time buy information and elimination date.
The ComNet FVT1D1[/M] video transmitter, along with the FVR1D1 and FVR2D2, supports the transmission of digital video transmission and bi-directional RS422 or 2- or 4-wire RS485 data channel over multimode or single mode optical fiber(s). When the unit is operated in the return RS422 2-wire data mode, a simplex contact closure channel is available in the video direction. This module is universally compatible with major CCTV camera manufacturers.