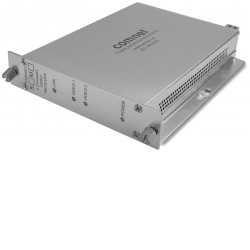 Availability: Worldwide
The FVT/FVR2001 Series is being eliminated. Please contact ComNet Customer Care for last time buy information and elimination date.
The ComNet FVT/FVR2001 multiplexer simultaneously transmits two channels of video over one optical fiber utilizing state-of-the-art 10-bit digital encoding and decoding for high-quality video transmission that meets the requirements of EIA RS-250C for short-haul video transmission. These environmentally hardened units are ideal for use in unconditioned roadside or out-of-plant installations. These units are completely transparent to and universally compatible with any NTSC, PAL, or SECAM CCTV camera systems.