USB Secure Reader
WAVE ID® Plus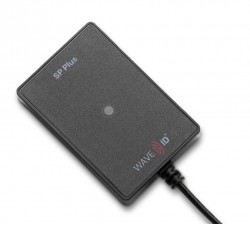 Availability: NA Only
Datasheet: en


The complete solution for any secure USB reader application. This reader comes loaded with a SAM administered by WaveLynx Key Management Services. This reader is compatible with LEAF enabled credentials for applications such as enrollment and secure printing.
Features for WAVE ID® Plus
WAVE ID® Plus Ordering Information
| Part Number | Description |
| --- | --- |
| WL-RDR80581AKU | WAVE ID® Plus from RFIDeas. 1 Year Warranty. |
Online Purchasing Available
This product line is available for online purchasing. Apply for an account to purchase via Credit Card. If you already have an approved account, Log In to see pricing and access cart features.