A selection of ComNet switches are compliant with EN60950-1 and UL Class 1, Division 2, Groups A, B, C and D for Hazardous Locations. Please contact the Design Center for help selecting the most appropriate product for your industrial application.
Industrial Ethernet Networks
Industrial Ethernet on the shop floor and in the field has become the standardized communications platform within most industries, having largely replaced the previous generation of legacy serial data-based and proprietary field-bus networks. It also provides significant value in all industrial automation applications by standardizing the network platform and interface, at the same time significantly simplifying and reducing the systems integration effort.
Designed to transmit the seamless flow of real-time information between the shop/manufacturing floor, back office, and the company headquarters on a common, scalable, standardized platform, as well as the ease of integration to the company enterprise network, industrial Ethernet networks have become an integral part of control systems for the process control industry, and numerous manufacturing and industrial control applications.
All major manufacturers of DCS (Distributed Control Systems) and PLCs (Programmable Logic Controllers), as well as the suppliers of monitoring, transducer/sensing, and industrial control equipment now support Ethernet communications within their equipment, These same suppliers have made Ethernet networking and Ethernet/IP-based protocols a major feature of their products and integrated systems.
Many Industrial Ethernet applications mandate the requirement for security provisions to ensure that the network remains safe from any possible intrusion. Most ComNet managed switches include SSH (Secure Shell), SSL (Secure Sockets Layer), and IPV6 protocols to ensure the security of the network.
Industrial Automation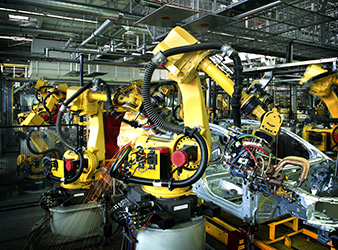 The industrial automation and process control industry utilizes specialized communications and networking equipment designed to operate reliably in extremely difficult environments. Characterized by wide variations in operating temperature, high humidity, high levels of vibration and mechanical shock, voltage transient conditions, EMI/RFI, and exposure to airborne and particulate matter, these environments demand communications equipment that is specially designed for the task at hand, including highly robust design and construction, to ensure the network remains as reliable as possible.
Designed for deployment in harsh, out-of-plant environments, such as those encountered in petrochemical refineries, oil and gas pipelines, ITS/heavy and light railway/transportation, mining, pulp and paper, discrete manufacturing (food & beverage production and processing, robotics, pharmaceutical production), and virtually all aspects of the industrial automation and process control market, ComNet products are also widely used in the field of machine vision, for the control and monitoring of various real-time manufacturing processes.
Oil & Gas Production, Pipelines and Transmission
A key concern amongst petrochemical refining, distribution, and oil and natural gas exploration companies is the reliable and uninterrupted flow of product at all stages of the production process. Ethernet has been widely adopted as the networking technology of choice for nearly all SCADA (Supervisory Control and Data Acquisition) systems deployed in this market, for the control and monitoring of high-volume refining and pipeline/distribution applications.